Judging my my blog stats, my post on setting up your Palm Pre to Sync only the Google "My Contacts" group via Nuevasync is pretty popular.  I hope there are some people out there who have it setup and working for them.
In the comments, I've tried to help a couple of people who were having problems.  I decided that a follow up blog entry on troubleshooting would be a worthwile endevor.
As people report new problems, I'll try to keep this entry updated.

Basic Troubleshooting
Give it some time: After you've finished the setup, you're anxious to instantly see all of your contacts sync.  However, it may take a few minutes before your phone starts to download contacts.   Once it does start syncing, it may take several minutes for it to complete the process … depending on how many contacts you have.  So, before you assuming that the sky is falling, just wait 5-10 minutes to see what's happening.
Check out the NuevaSync Detailed Status Page (screenshot below)
(https://www.nuevasync.com/PublicSite/user/detail-status.htm)
This page will show you which calendars and how many contacts are setup to sync.  If the numbers look right to you, then you know that NuevaSync is successfully accessing your Google Account.  If they don't, go into the NuevaSync settings screen and double check your Google Account settings for both contacts and calendar.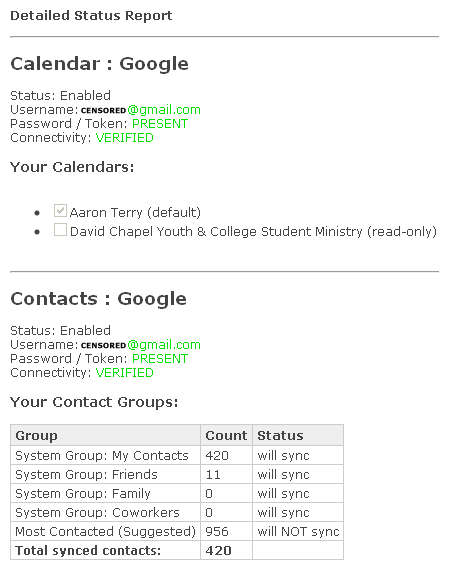 Check out the NuevaSync Sync Status Page (screenshot below)
(https://www.nuevasync.com/PublicSite/user/sync-status.htm)
This page will show you whether or not your Pre is successfully syncing.  If there is no information there, then your Pre is not successfully connecting to NuevaSync.  Double check the sync settings in the Pre Contacts app for the NuevaSync Exchange server account.  If you see some weird error message that you can't figure out, let me know and I'll try to shed some light (read: guess what it means )

That's all for now.  Let me know what problems you are having and I'll see what I can come up with.