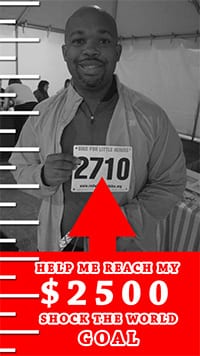 The MS 150 is an annual National Multiple Sclerosis Society fundraising event centered around a two-day 150+ mile bicycle ride from Houston to Austin.
When I first heard of people making this trip by bike, it sounded ludicrous. Later making the journey became a physical fitness goal. Once I mentioned the desire to a Church member who rode in 2013, he made it point to keep reminding me.
So, my time is finally here and I'm excited to participate. I'm new to cycling, but I've been training and I'm up for the challenge. While the physical preparation is all on me, I need your help to realize my fund raising goal of donated funds to fight multiple sclerosis.
This is not a pledge based on my performance. It's a tax-deductible donation you can make to help further the cause of the National Multiple Sclerosis Society.
Shock the World Goal: $2500
Support Me
NOTE: It's not highly visible, but you should see this line near the top of the form: Thank you for your gift to Texas, Houston – 2014 BP MS 150 on behalf of Aaron Terry
Track Me
See my training progress and follow me live on the day of the event. Works with any of the MapMyFitness Apps. Just download it to your smartphone or use the website.
What is Multiple Sclerosis?
Multiple sclerosis is a progressive neurological disease that affects people in many different ways. It could be paralysis one day, loss of vision the next or impaired memory the day after that. Living with MS means living with uncertainty.
When it comes to MS, only two things are certain:
Another American is newly diagnosed with MS every hour of every day.
Many people are joining the movement toward a world free of MS – including me.
Let's Move Forward Together
The Society organizes 100s of rides nationwide. The funds they raise fuel research aimed at treating and eventually curing MS; they also provide crucial services for persons living with MS.
I'm helping the National MS Society move forward toward a world without MS and making a difference in the lives of 400,000 Americans with multiple sclerosis.