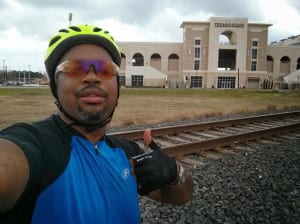 One of the big hurdles for a new cyclist is making their first 50+ mile ride. I'm training for the MS150, a two-day 150+ mile ride from Houston to Austin in April 2014. So obviously, I had to get a 50+ miler under my belt soon!
I had decided to do the 54-mile route at the Bike for Little Heroes charity ride on the outskirts of Houston in early February. That was my first organized ride ever and I didn't want to be worried about whether I could make the distance.
So, on the weekend before, I decided to ride a solo half-century from South Austin to San Marcos and back. You can see the route below.
Unfortunately an extra challenge came along on the day that I decided to go 20 miles further than I had ever gone. Twenty to twenty-five MPH winds from the South were blowing that morning. Which means that I was biking straight into heavy winds all the way to San Marcos. It was brutal, but it made it all the sweeter when I made it to Bobcat Stadium.
Thank God the winds were still blowing and gave me a huge push on the way back home. I felt like I had a sail on my bike as I was breaking speed records. After making it to the finish line and still feeling like I had more miles in the tank, I was feeling really good about the next weekends event.